Rent one of our beautiful holiday homes in the summer or winter. Enjoy nature and discover Giethoorn over the water.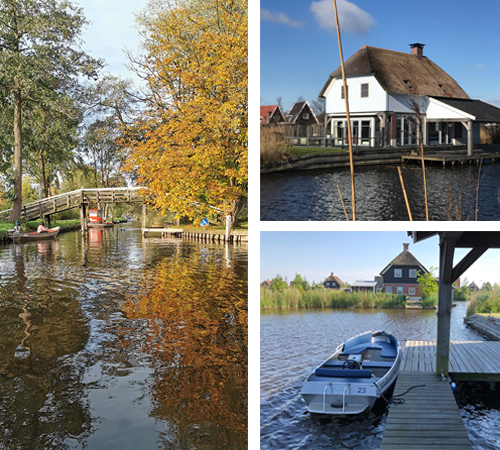 Welcome to Giethoorn
Two years ago we celebrated our first holiday in Giethoorn and felt directly connected to this beautiful place in our own country. We can now be found there very regularly. A stay in one of our beautiful Villas is reminiscent of a fairytale. Our villas are located in a beautiful resort located on a private lake in Giethoorn. And you are in the tourist center of Giethoorn in no time. The water offers you direct access to nearby nature. Our villas are ideal for families, nature lovers, and water sports enthusiasts who want to enjoy luxury.
"Our whole family consists of water enthusiasts. The kids prefer to sail and swim all day long. My wife especially loves to sunbathe by the water and I am a fanatic fisherman. These holiday homes are therefore ideal for us. "
Familie Versterk
Facilities
Aquatics
Rent an electric sloop or paddle away on a SUP
Bike Rental
Discover the beautiful surroundings of Giethoorn by bike.
Shopping Service
Have everything you need delivered to your door.
Wellness & Relaxation
Enjoy even more? Discover our Wellness Villas.
Restaurants & Horeca
Enjoy one of the restaurants on the resort
View all facilities
Practical information
Find answers to the most common questions about Reservation, Arrival & departure, parking, pets, extra facilities, and more.
Make sure you book
your Villa on time.
Our rentable holiday villas are booked very fast. Therefore, we recommend that you make a reservation in time. So find your dream villa, make a reservation and let the enjoyment begin.